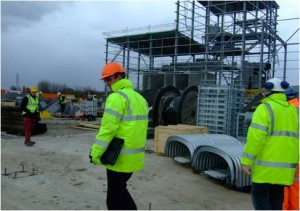 Bricesco have a dedicated team of on site Installation and Commissioning engineers. Not only do we have the capability to install our own equipment, we can also offer installation services to a wide range of companies who are looking to install new or relocate existing equipment or facilities.
In many cases, the fact that we have our own fabrication facility mean that we can pre make any fixings, structural assemblies or duct work prior to commencing on site work allowing us to offer reduced on site times and costs.
On site work undertaken includes machine / equipment installation, fabricated structures, facilities installation (mezzanine floors, hand rails, building columns, ladders, etc), pipe work, electrical tray work, and ducting.
Site work is performed under CDM regulations where required.